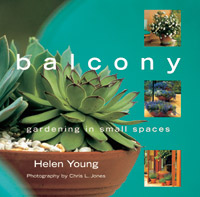 Balcony: Gardening in Small Spaces
by Helen Young
Photography by Chris L Jones
Published by Lothian Books, Melbourne
RRP $45.00
Available through www.florilegium.com.au
While apartment dwelling has grown in popularity in recent years, for the garden lover creating an outdoor space is still important. However it can present certain challenges. How can you enjoy the pleasures of a garden using containers? What plants grow best under what conditions? How do you create an outdoor area that complements your lifestyle and is easy to manage? How does a non-gardener go about selecting the right plants for their situation?
Whether you have a balcony, terrace, townhouse or villa garden, Balcony: Gardening in Small Spaces provides practical solutions to these questions and many more. The secret is in the planning – the more thought you give to selecting the right colours, materials, accessories and plants to make the most of that precious outdoor space, the more pleasurable the results will be. By applying Helen's simple but useful ideas, everyone – whether green thumb or novice – can find refuge in their balcony or small garden.
Balcony offers advice on creating the right look for you, as well as solutions for coping with difficult conditions such as high wind areas, shade or creating privacy. It also contains useful ideas for edible gardens and colourful flowers, vertical gardens and indoor plants, plus advice on basics such as choosing pots accessories, potting and pruning.
Lavishly illustrated throughout by photographer Chris Jones, Balcony is jam-packed with practical tips and inspirational ideas that will help everyone achieve success with plants in small spaces.